ON CAMERA WORKOUT for ALUMNI
lead by
The only acting coach selected on both coasts as one of "THE BEST AUDITION COACHES" BACK STAGE West and East  polls.
Caryn is an award winning, professional actress of longstanding, she still auditions… just like her students. BIO
DON'T REST ON LAURELS or SHOW YOUR RUST! STAY WARMED UP HERE
  3 week series 7-10:30pm Thursdays
Next series :  December 3-17 2016 

( 8 actor minimum – 12 maximum)
Then attend to Tuition Fee below ( Paypal options 1-3)
CSFA studio 7506 Lexington Ave. West Hollywood
Only open  to Approved Working  Actors and all Alumni of AUDITION SKILLS , INTENSIVES and SCENE STUDY: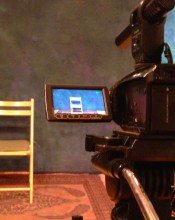 Warm up in new ways , Brush up, Prepare an audition the next day, practice On Camera, review camera footage,  Perfect CD workshop scenes Troubleshoot career needs or issues with Caryn and the collective wisdom of the group, Career task accountability. Bring USB FLASH DRIVE of 2GB or more to take home footage
6:45 arrive
7pm  sharp SEVEN MINUTE MEDITATION or VOCAL WARM UP
7:10- 7:30  CURRENT GOALS AND ISSUES: Brainstorming for career solutions, New Exercises, Requests for Genre assignments, Social Media Industry Networking and Internet Casting Tips
7:30-10:30pm OnCamera Sides practice, coaching for upcoming auditions  (IF YOU NEED MATERIAL CALL 818.693.4625) 
There are no refunds , but you can get a credit for the next workout. We reserve the right to reschedule  Caryn for professional or personal reasons.  No transfers. Bounced check fee is $30.00.