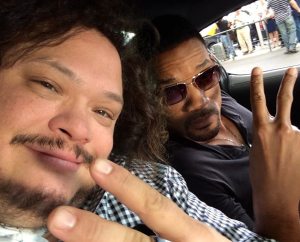 ADRIAN MARTINEZ   NYC actor, "Blacklist Redemption" series regular, 'sidekick to the stars' in 'Focus' (Will Smith), 'Walter Mitty' (B. Stiller) 'Casa de mi Padre' (Will Ferrell)  "From beginners to veterans, Caryn helps all actors with her passion for actors— she's a great one herself— and laser sharp insights into your work, and how to help you interpret material and nail that audition. She's simply awesome.
Caryn is NYC  mid January- June ,  LA June to early January  (but available to Facetime, Duo or Skype coaches clients anywhere as many clients opt to do!) Caryn West is on the recommended list of many agencies and managers in LA and NYC and is highly regarded by working actors. She is the only acting coach cited on both coasts as one of "THE BEST AUDITION COACHES" in Backstage West and East polls. She is practical, kind but tough about preparation and wants you to deliver in your most powerful and authentic way. On Set, Facetime, Skype or Android DUO coaching available. 

Discount Packages starting at $150 off a 3 hour package to $700 off a 10 hour package
Just tape or coaching/direct, then tape with HD camera/lighting and quick uploading and delivery to a Dropbox link. Caryn makes for a damn good reader behind he camera too! Conveniently located in West Hollywood or a studio of your choice when in NYC.  THE DETAILS
CARYN'S SPACE FOR ACTORS' mission is to provide real tools for working actors, inspire them to stretch their craft beyond comfortable assumptions and become true artists, and to support their courageousness to keep showing up and book!