" The best there is.  In the tradition of the great New York acting coaches,  Caryn knows how to interpret material and help me knock the ball out of the park at every audition! – EILEEN GALINDO
To book an session with Caryn:
Go to the

SCHEDULE PAGE

  

Please don't  email 

for an appt,

and especially last minute requests.   We often do not see your email requests in time and Caryn may be in the studio coaching, the phone on SILENT.   Worst Case Emergency: CALL OR TEXT and we will get back to you at our very earliest and try to fit you in:  818.693.4625 
After requesting your appointment,  

and once the hour is mutually agreed on a

 "Scheduling  Confirmation" email 

will be sent to you.
To Prep for our session , please read and print for your appt.
Email the sides and full breakdown to carynwest@mac.com to study.
Paypal below & get instant receipt or, bring Cash to session for

$30/hr off

Bring a Second Copy of the sides for Caryn ( not on your phone please)
Bring the complete CHARACTER BREAKDOWN (with all other characters listed and a storyline) As a Rule, ask your agents to send

the all project info

, not just your part's description!
Read the whole script if provided.
IMDB research the writers & director so we know what is style/genre of their past work. Watch the show or trailer on the Network website, Youtube, iTunes or Hulu.com  to get its world and tone.
IF WE ARE PUTTING YOU ON TAPE: Look over the CAMERA TAPING PAGE & find out from your Reps asap what encoded video specs they want and how we are delivering the takes.
FASTEST DELIVERY is by sending your reps the file as a condensed .m4v or putting it on your DROPBOX and giving them a link or sending file via WeTRANSFER directly to you
For tapings, MEMORIZE as much as you can in advance!

 

(If its so last minute you can't, we have a few cheats to help like using an iPad as teleprompter)
Ways to Pay, Map and Parking tips below. See you soon!
If you can't get to the studio quickly, consider the online options: 
FACETIME / SKYPE/ DUO COACHING :    Caryn now not only coaches in her West Hollywood studio or West End Ave place, but coaches online frequently to clients on both coasts, even Europe. Facetime on your Mac, iPhone or iPad are our preferences as it seems more consistent, set up is easier, I don't have to wait for you,  and the reception is rarely compromised even on LTE connections. ( Setup Facetime, then call carynwest@mac.com or  Skype  ( id: carynwestcoach) 
PLEASE SET UP SKYPE AND TEST OUT BEFORE YOUR APPT. It takes about 30 minutes to configure. Free Download ) 

Fee options:
Debit or Credit Card tab or PAYPAL CREDIT tab (Includes offers like
No Payments + No Interest on purchases over $99 if paid in full in 6 months.) Card Usage, Cancellation and Reschedule Policies:  If you wish to cancel: Up to 7 days before you use the card, we will refund all.  No refund occurs after that.  No transfers.  No make-ups or credit to classes with this purchase.  Bounced check fee is $30.00. We reserve the right to reschedule Caryn for professional or personal reasons. But you have unlimited time to use the card for hourly, ½ hour or multiple hour coaching in person or online.
STUDIO ADDRESS/MAP  Caryn West's Space for Actors
PARKING TIPS  LA
ABSOLUTELY NO PARKING on the premises or driveway ever, it is reserved for other tenants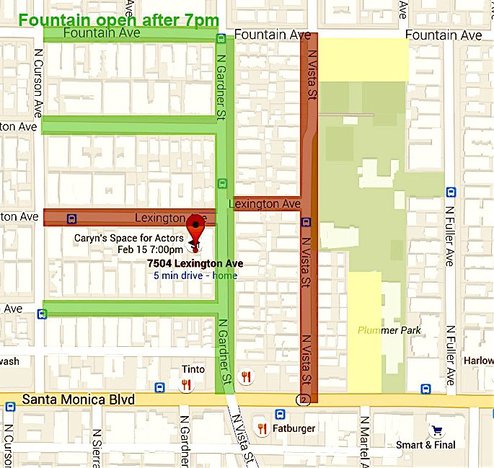 EVE.S (7pm-7am) PERMITS ONLY  parking. RED RESTRICTED AREAS on this LEXINGTON AVE. block bet. Gardner & Curson!
GREEN AREAS Park anywhere on Gardner or daytime on Lexington  is best, Hampton or Norton Sts (bet. Curson and Gardner) one block north or south of Lexington.  Fountain free after 7pm.
Reliable alternatives are: YELLOW AREAS Plummer Park parking lots  (8am-10:15 pm  Martel/Santa Monica Blvd  or  Vista / Fountain Ave) — and walk 2 blocks over to the studio.
Avoid Astroburger or Fatburger parking lots as they are starting to tow if people are there for more than 2 hours
Studio is at rear of gated driveway