Hi CSFA enrollees, please!   
A) Enroll at form's link below B) Pay tuition on this page and C) Print instructions  
THE AUDITION INTENSIVES
Los Angeles: Dec 9- 10, 2017  Sat/ Sun 10-5pm  (Early enroll by Nov 29, save $50!)    
2018: TBA 7-11pm 4 weeks (limited to 12, early enroll by ____ , save $50!)
A)  Fill out ENROLL FORM here
B)  Payment Options and  First Class Instructions  
       $295  (early enroll & save $50) 
Before Nov 29,   $245 + handling fee PAYPAL OPTION 1 below 
After   Nov 29,    $295 + handling fee  PAYPAL OPTION 2 below
By Nov 29, $260 CASH  ( indicate on enroll form)
You don't need a PAYPAL account to pay:  you can use the

 Debit/ Credit Card  tab and also have their option to use PAYPAL CREDIT tab  (PayPal Credit includes offers like No Payments + No Interest on purchases over $99 if paid in full in 6 mo.s in installments.)
Cancellation Policies: If you wish to cancel: Up to 7 days before class begins we will refund all.  No refund is given if cancelling occurs after that. We reserve the right to reschedule  Caryn for professional or personal reasons.  No transfers.  No make-up classes. 
Did you fill out Item A  ENROLL FORM?
C) Class Instructions:
Arrive 15 minutes before the first class, so we can start on time.
Bring an empty USB flash drive or Class 10 UHS-1 SDXC Memory Card of at least 4GB  to the Camera Classes to take footage home.
Bring a notebook and pens for note taking on the lectures is quite helpful.  I give out a lot of handouts so I suggest you save in a 3 spiral binder as they can be of help to you in the future.
Please call if you are running late. any questions or  to confirm, call tel # below. Excited to get started with your new  resolve and goals!
THE STUDIO Caryn West's Space for Actors
7504 Lexington Ave. W. Hollywood 90046  REAR OF DRIVEWAY WITH BEIGE IRON GATE, 1st floor studio  cell 818.693.4625    Call of text if you are running late
MAP / PARKING TIPS: NO EVENING  NON PERMIT PARKING (7pm to 7am) on LEXINGTON (the studios's block) between Gardner and Curson.
ABSOLUTELY NO PARKING on the premises or driveway ever, it is reserved for other tenants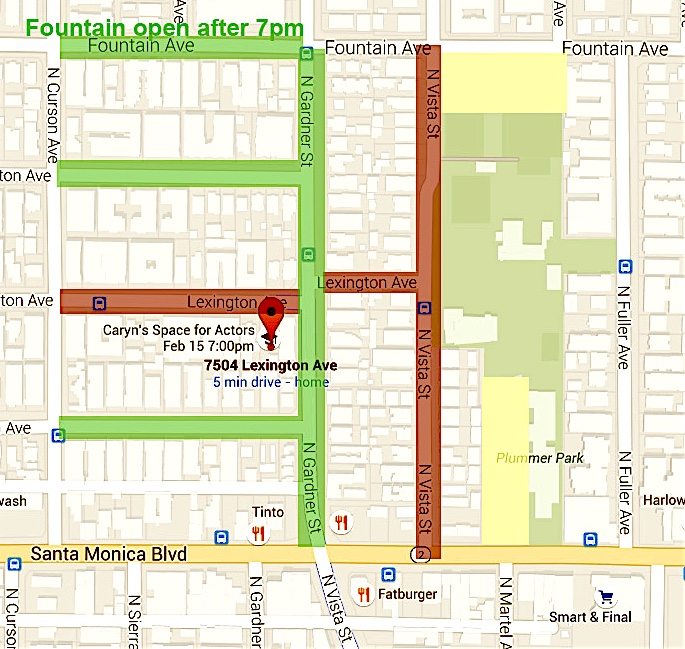 EVE.S (7pm-7am) PERMITS ONLY  parking. RED RESTRICTED AREAS on this LEXINGTON AVE. block bet. Gardner & Curson!
GREEN AREAS Park anywhere on Gardner or daytime on Lexington  is best, Hampton or Norton Sts (bet. Curson and Gardner) one block north or south of Lexington.  Fountain free after 7pm.
Reliable alternatives are: YELLOW AREAS Plummer Park parking lots  (8am-10:15 pm  Martel/Santa Monica Blvd  or  Vista / Fountain Ave) — and walk 2 blocks over to the studio.
Avoid Astroburger or Fatburger parking lots as they are starting to tow if people are there for more than 2 hour.  SEE MAP
UNTexas, go to:  Registration