Announcing 
ACTORS IN ACTION  by Caryn West
"CREATIVE SOLUTIONS FOR THE 21st CENTURY PERFORMER"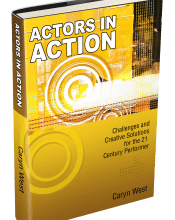 Caryn West calls the actor to action! To find courage, truth, tactics and detail in your work, developed from over 25 years of teaching, and coaching some our country's finest actors. Caryn is consistently rated as one of the best acting coaches in the country by the industry.
She provides formidable skills that have helped thousands of professional actors show up and deliver their best work with renowned results!
In this book you will learn …
5 Problems for Actors:
Many actors are in the dark about 21st century marketing
Actors have performance anxiety that can stunt their work and career
Many fail to prepare in an detailed, inspiring way that books the job
Actors forget they want your artistry and soul to fill the role
The Seductive Idea that Intuition is Enough
Solutions for Actors:
How to be the most effective storyteller and character you can be in any medium
Preparation Checklists that embolden the actor to create roles with specificity, focus and power
The New PreRead: Creating an online internet presence that efficiently markets your skills
On-Camera Skills that most effectively promote your talent
Embrace the Paradox: First, Do the Homework, Then Throw It Away
The real tools to book many more acting jobs!